free surf maroc
Morocco Surf School
Morocco's coastline stretches along both the Atlantic and the Mediterranean, providing a wide choice of beaches just waiting to be visited. Among Morocco's most popular beaches are Essaouira, Agadir and Taghazout. And with great spots for surfers and water sports enthusiasts, there's no shortage of waves along most of the country's extensive, sandy seashores!
Morocco has hundreds of surf spots and remains a paradise for surfers from all over the world. Its geographical position makes it an ideal destination for surfing and having fun all year round. Morocco is also ranked as the world's No. 3 destination for learning to surf. Its coastline has great potential in terms of initiation, learning and perfecting surfing. That's why our surf school offers everyone the opportunity to experience their first surfing sensations in Morocco in ideal conditions, with guaranteed safety and quality teaching.
For over 10 years, our surf school has been catering for beginners, children, teenagers and adults, as well as more experienced surfers who want to optimize their technique. Free Surf Morocco teaches surfing to all levels and ages, from the very young to experienced competitors! We are passionate local surfers who love Morocco, the ocean and nature. Our surf school in Morocco shares with each of its students the vision of responsible and supportive surfing!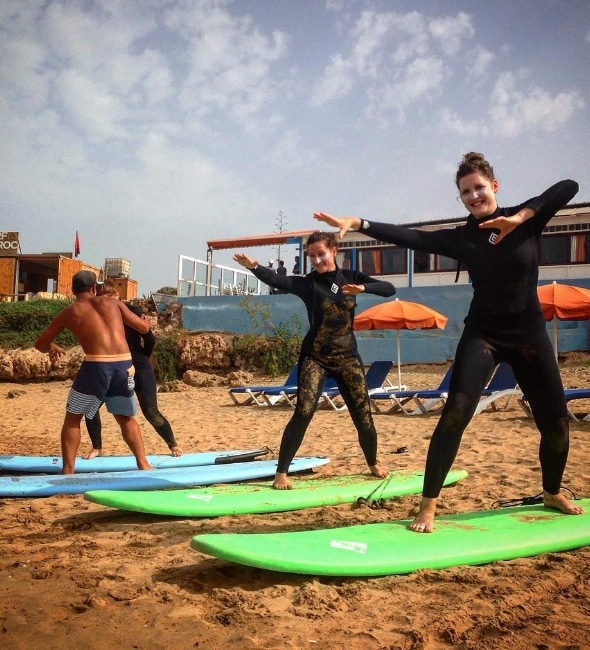 Live the passion of surfing with your surf school in Morocco!
From Agadir to Taghazout, Tangier, Oualidia... on almost every beach in Morocco, you'll see plenty of surfers, boards under their arms, eager to get back in the ocean! But as all surfing fans and pros know, before you can master the waves, you need to learn! With a wealth of experience in the ocean, our team guarantees you a sporting holiday and quality teaching. Choose Free Surf Morocco for your surf school and join the adventure!
The Agadir region, and Taghazout in particular, is the cradle of surfing in Morocco. Facing the Atlantic swell, the Moroccan coast offers a multitude of surf spots just a few hours' flight from France. Whether you're a beginner or an expert, our surf school in Morocco offers you the chance to live out your passion for surfing to the full. As well as being addictive, as with all sporting disciplines, surfing depends on numerous random factors controlled by Nature, which brings you even closer to her.
Wind, swell, period, coefficients... perhaps these words don't mean much to you yet, but soon you'll be joining the ranks of surfing aficionados who scrutinize them every day! And if you adopt a 'surf attitude', you'll be able to ride the waves just like in real life! For surfing fans, one can't go without the other, and their surfboards also help them to transform their inner selves. Surfing is the ultimate trend, and it's a sport that unleashes all kinds of passions, with many benefits for the body and mind.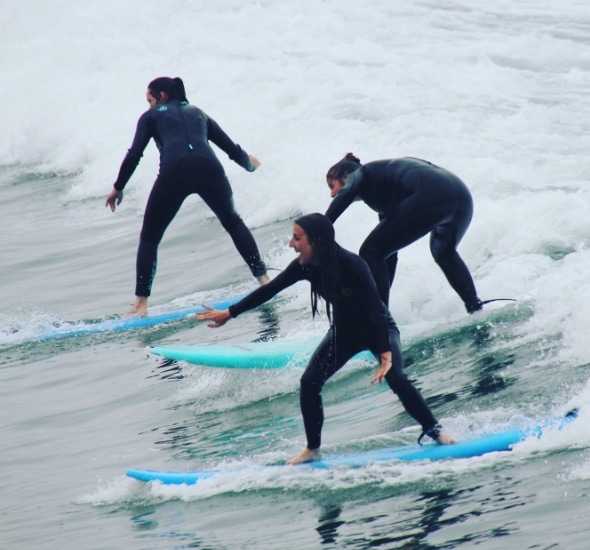 free surf maroc
Choose our surf school for a safe and independent way to surf!
Free Surf Morocco is for anyone who wants to learn or improve their surfing skills.  Our surf school in Morocco offers surf courses tailored to the motivation, level and physical condition of the student. Equipment is provided, including surfboards adapted to your level and body type, wetsuits, leashes, etc., and supervision is provided by qualified instructors and lifeguards. Whether you're looking for a week-long course, private lessons or even a tailor-made program, we can offer you a teaching method to suit your level.
Thanks to our surf school, you'll be able to surf in complete safety. Surfing is all about observing your surroundings from the moment you get in the water. You'll quickly learn to read the trajectories of other surfers as they ride the waves to avoid getting caught in their surf lines when you come up to the peak (wave catching zone). Surfing also means knowing how the beach works where you're surfing, learning to identify the currents and the breaking zone (plateau or sandbank, etc.) so that you can create a mental path to get there.
With the lessons given by each of the instructors in our team, you'll build up, session after session, a reference system of situations that will enable you to anticipate "being at the right time in the right place to catch the right wave", neither too far offshore nor too close to the beach. With practice, you'll be able to anticipate the arrival of a series of waves.  Finally, all the lessons you'll take at our surf school are designed to ensure that you're able to surf independently and that you know your limits perfectly. Thanks to our surf coaching, you'll be able to surf in familiar conditions with full control of your skills!
What's more, Free Surf Morocco is not just a surf school, but also extra activities, surf events and a surf camp. Come and join us in Morocco, enjoy a unique experience and discover a different way of surfing. We welcome you to your surf school in Agadir or your school in Taghazout to share our passion for riding the waves! Free Surf Morocco is committed to continuous improvement in terms of welcome, supervision and the preservation of our natural environment.
All in all, contact us and we'll find a solution to suit your needs. We'll be delighted to provide you with all the information you need to book your lessons and advanced courses.