free surf maroc
Free Surf Morocco: Make the most of surfing with us in Agadir!
Morocco's coastline offers surfing opportunities in a number of regions, including Casablanca, Dakhla and Essaouira. But it's around Agadir, particularly in Taghazout Bay, that the ocean delivers the best waves in the best conditions. Take a trip to the seaside town of the Maghreb and discover Agadir, the largest town in southern Morocco. Its proximity to the Atlantic coast has boosted tourism and water sports. Agadir is all about surfing, with its unique spots, long beaches of around 10 km and incredible waves.
If you're dreaming of exoticism, sun and unlimited surfing, our Agadir Surf Camp is the place for you! With Free Surf Morocco, explore the best surf spots you could find in this region of the Kingdom. Enjoy surfing in Agadir and the surrounding area thanks to our surf lessons for all levels and ages, from beginners to advanced surfers. Work on your skills at spots suited to your level and progress in Agadir, known worldwide as a "sun destination". At the Agadir, Taghazout and Tamraght surf camps, you'll enjoy a truly exceptional stay in the surfing Mecca of Morocco and Africa. Let yourself be tempted for the first time on a board as a beginner, or for the umpteenth time to experiment and surpass your limits thanks to our surf team in Agadir!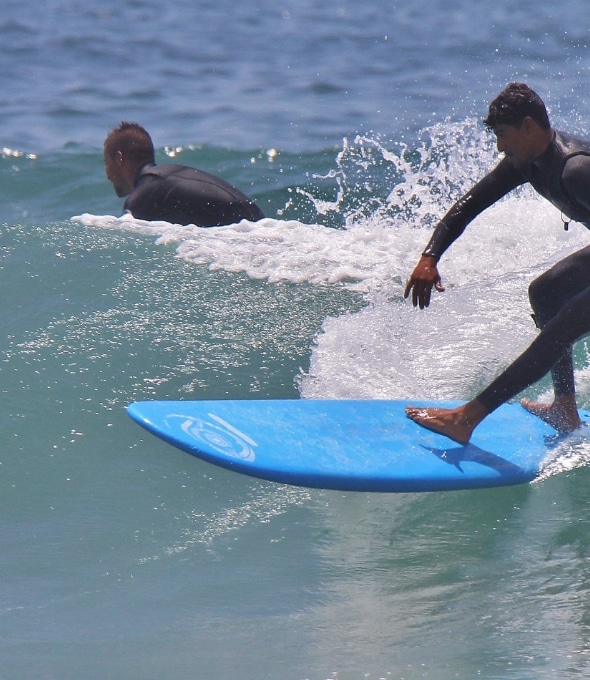 Experience surfing in Agadir at our surf camp!
Broadly speaking, Morocco has a lot to offer when it comes to surfing, especially when it comes to waves. In fact, the multitude of spots, the quality of the waves and the right weather conditions are just some of the favourable conditions that attract surfing enthusiasts from all over the world every year. With over 300 days of sunshine a year, the weather in Agadir is mild all year round, with an average temperature of 22-24°C in winter and 30°C in summer. The Agadir region is well exposed to the Atlantic swells. Its indented coastline with a succession of bays and points means there's always a wave to surf. Whatever the season, the Agadir region is quite simply one of the best places to surf in Africa. Every year, our Surf Camp Agadir welcomes surfers from Morocco, France, Europe and every continent!
Our Agadir Surf Camp is also the best starting point for exploring the whole region. Taghazout in particular, half an hour north of Agadir, offers an international surf village atmosphere! This is Morocco's best-known surfing destination, with the famous wave at Anchor Point. You'll also find plenty of spots on foot, with high-quality waves that require a certain level of skill. You can also explore the surf village of Imsouane, a fishing village north of Agadir with long waves ideal for SUP or longboarding, as well as exposed spots and back-up spots...
La plage Spot in Agadir Bay
The central beach has waters that are ideal for surfing in Agadir. Agadir Bay is ideal for beginners to surfing, as the bay helps you to familiarize yourself quickly with the ocean.  The north of the bay is a good retreat spot, while the south of the bay offers an exposed beach break.
Spot Anza
This is a fairly consistent beach break, known as "Moroccan Trestles" or "Trestles of Morocco". This wave breaks left and right and works best on a north-westerly swell. The water temperature is just right.
Spot K11 and spot K12
These two beaches go together, and if you're passing through Agadir, you should make a trip here. There's something for everyone, from professional surfers to intermediates and beginners. The K11 is a left-hander that works best at low tide and needs a north-westerly swell. The K12 is also a left, but softer, perfect for long boarders or improvisers. This point break also works best on north-westerly swells and at high tide.
Spot Banana Beach
You'll find Banana Beach with a long wave on the right. This is a reef spot for all levels of surfers.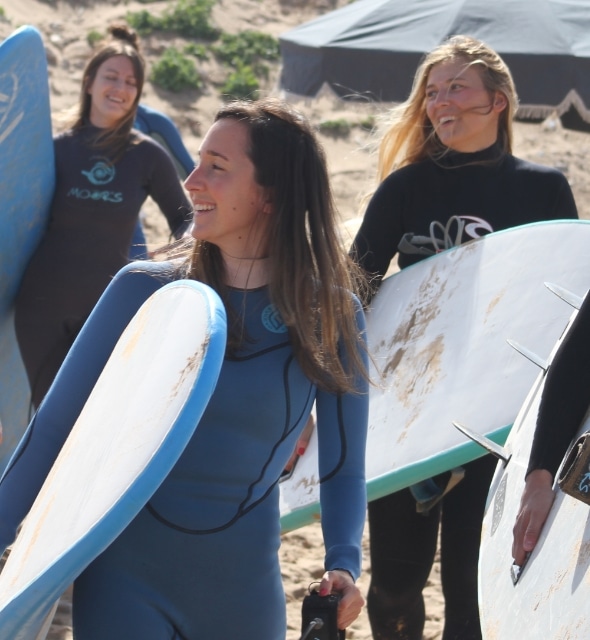 free surf maroc
Free Surf Morocco offers a range of surfing packages and activities in Agadir
For the most enjoyable and unforgettable surfing holiday by the ocean in Agadir, Free Surf Morocco has thought of everything for you! Our team will help you find the ideal surfing spot in Agadir to suit you and your level. Lessons are given by certified and experienced instructors who will be with you every step of the way, from the warm-up to your last wave or swell, at every surf spot in Agadir. The instructor remains in the water throughout the lesson to help, correct and guide each student according to their level.
Board, wetsuit, leash... we offer equipment adapted to your height, weight and level. Depending on your progress, you can change boards during the course (foam board, epoxy board, professional board, etc.). For accommodation by the ocean, from single rooms to flats, there are several options for comfort and space for families, friends or groups. Depending on your formula, these different options allow you to be independent while enjoying the best services at Surf Camp Agadir.
Free Surf House, Free Surf Guiding, Free Surf Family, Free Surf School, Free Surf Girly, Free Surf Paddle or Free Surf Yoga, our packages and formulas have been carefully designed to allow everyone to get the most out of surfing in Agadir, at a very affordable price. We also offer surf lessons in Morocco at your surf school, as well as surf coaching and tailor-made support. We also offer other relaxing and cultural activities, always at the best price: skateboarding, yoga, horse riding...
Without further delay, for a memorable surfing holiday in Agadir, contact the Free Surf Morocco team! And don't hesitate to have a look at the reviews left by our customers, both on our website and on third-party review sites. All these reviews will give you a foretaste of what awaits you at our Agadir Surf Camp!